What you don't know about the world's most beautiful clement twins.
Who are "Clement twins"? Do you have any idea about them? Most of you will say "No." All right, then. This is the story of clement twins. This is a fascinating story that shocked the world.
You may have seen many twins in your life. Many of the features the appearance of them are identical. Here, we are talking about two beautiful girls. They are the most beautiful twins in the world.
Clement twins – Biography
Ava Marie Clement and Leah Marie Clement are the names of these two sisters. Both these sisters are twins and ten years old. Their mother is Jaqi, and Kevin Clement is their father. They also have a brother named Chase Robert.
Both of them were born on 07th July 2010 in California. Both of them are famous models and now. Yes, my friend, they are one of the most popular actresses now. Can you imagine that? Becoming a world-leading model at the age of 10 is a dream for anyone.
Clement twins – Career
It is their unique beauty that made them famous all over the world. The photos that their mother started to share on Instagram changed the lives of these two girls. On the other hand, their mother also did not have any specific intention when uploading those photos.
As we all know, it is destiny that controls all our lives. These photos made the headlines at that time, and an American Modeling Agency soon hired these two little princesses. They first appeared on Mini magazine Holiday.
Now they work as professional models, influencers, and actresses. Can you imagine that? On the other hand, it their talent and natural beauty that made it.
Above all, now they have over 002 million followers on Instagram and millions of YouTube fan base as well. Their Clements Crew channel on YouTube is one of the most popular channels in the world right now.
Besides, they also work with leading brands like Nike, Disney, and Mattel.
Do the clement twins wear makeup?
Clement twins are now the leading models in the world. On the other hand, they work for videos as actresses.
Even though these two girls are just kids, they need to wear costumes and makeup to work in this industry. So, they have makeup from professional makeup artists when carrying out professional shoots.
Clement twins dad's status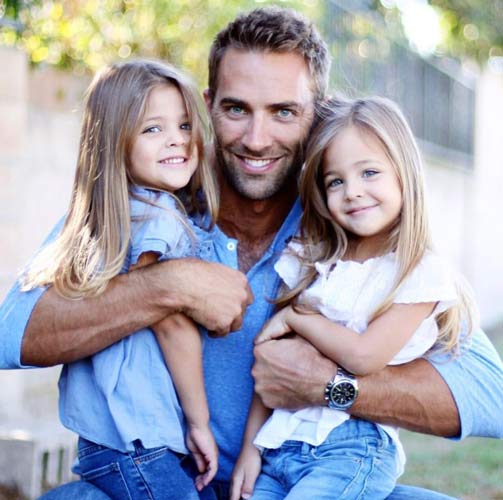 Kevin Clements is the father of the famous Clement twins. He was the head swimming coach at JSerra Catholic High School in California.
All of them were living happily like never before until this sad incident. One day Kevin felt a severe cold and knew that there is something worse than cold. His symptoms got worse in the next couple of weeks, and they had to take him to a hospital.
30th October 2019 was an unforgettable day for the Clement family. On the other hand, it was a day packed with grief. All their happiness and joy vanished in a couple of minutes when the doctor revealed that Kevin was diagnosed with T-cell Acute Lymphoblastic Lymphoma and Leukemia. It was a rare and aggressive form of cancer.
After that, the mission of these two little girls was to find a match for a bone marrow transplant. They tried their level best through their social media platforms to find a suitable donor to save their dad.
Even though they received thousands of responses, the compatible donor was not too for. Kevin's brother, Chris, was eventually recognized as the perfect match for this bone marrow transplant.
On the other hand, Chris was thrilled to be the donor of his brother and always wanted to save his brother's life.
After all, the transplant took place at National Medical Center in Durate, and Kevin got permission to leave the hospital after three weeks. Some sources reveal that the blood count of Kevin is dropping drastically, and the doctors are looking at whether he needs another transplant surgery.
Clement twins net worth
Now the clement twins are almost 11 years old. Even though they do not have personal social media accounts, their Instagram and YouTube fan base are skyrocketing daily.
This is mainly due to the unique features and beauty of these two beautiful kids. Some reliable sources reveal that they have a net worth of nearly $05 million. On the other hand, both of them earn mostly through modeling projects and brand endorsements.
Above all, $5 million worth for two 11 years old two kids is something extraordinary.
Special things to know about Clement twins
Now, we all know the age they started their professional career. On the other hand, the mother of Clement twins had lots of critics about this.
People started to give negative comments about this situation. After all, Ava and Leah were both kids, and still, they are. People and media always pointed out the negative consequences that could happen in the future. But, Jaqi, their mother, always came up with positive answers for all. She did not want end the blossoming career of her children to end due to these comments.
On the other hand, Clement twins have a very tight schedule. Apart from modeling and acting, they are in the dance and swimming teams too.
Clement twins – Modeling Life
The modeling life of the Clement twins started when they were 06 years old. The first modeling trial of the Clement twins went for about three months. After that, their mother decided that it was too early for her two little girls to modeling.
After some time, their mother identified the skills of these talented kids and let them enter the modeling world with great care. It was the photo shoot of the famous photographer Isa Battaglin that marked their arrival.
The rest is history. The photos of these wonderful girls got famous worldwide, and many of the big brands wanted the Clement twins for their advertising campaigns.
We have provided you some vital and fantastic information about the Clement twins. Can you imagine the wonders of nature? Two little girls enter into the worlds of modeling and becoming one of the most wanted at just 11.
The life story of Clement twins was not pretty all the way through. We knew what happened to their father. On the other hand, they also raised funds for their cousin, Shane, who diagnosed with Spinal Muscular Atrophy (SMA).
Above all, the authorities now have a list of donors for bone marrow transplant surgeries. They collected all the responses of the volunteers who responded to the Clement twins inquiry.
As we all know, still they are at just kids. They have a long journey to follow. On the other hand, their father is still struggling with the disease condition. Above all, the challenges to come will eventually arise.
Therefore, we all hope that the happiness of these two little angels will remain forever and wish both of them to achieve success in their lives.
Click this link to know more about your different fashion.